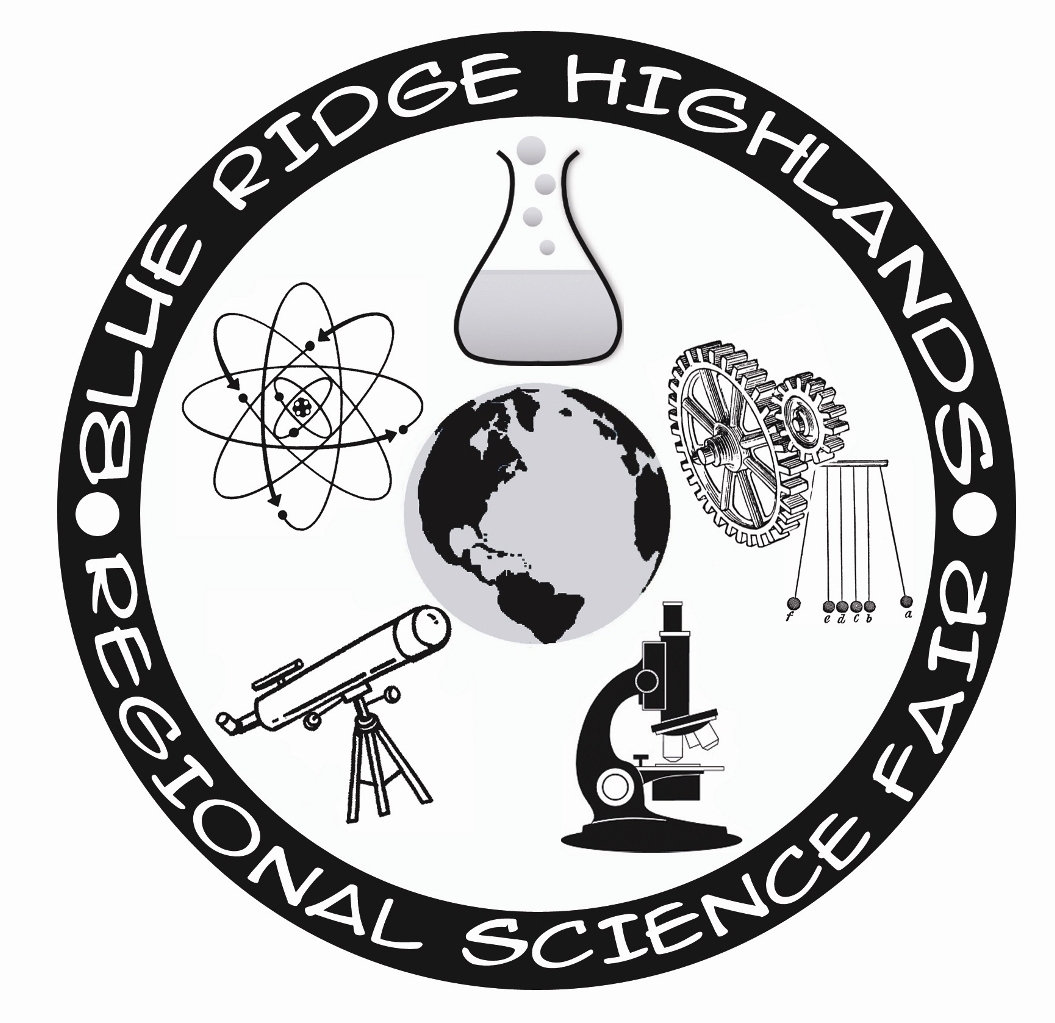 Dr. Christine Hermann and Dr. Kimberly Lane,
Co-Directors
Box 6949
Chemistry Department
Radford University
Radford, VA 24142
The Blue Ridge Highlands Regional Science Fair proudly announces the finalists that attended the International Science and Engineering Fair (ISEF) in Los Angeles on May 13 - 20, 2017. 1,778 students from 78 countries competed for more than $5 million dollars in prize money.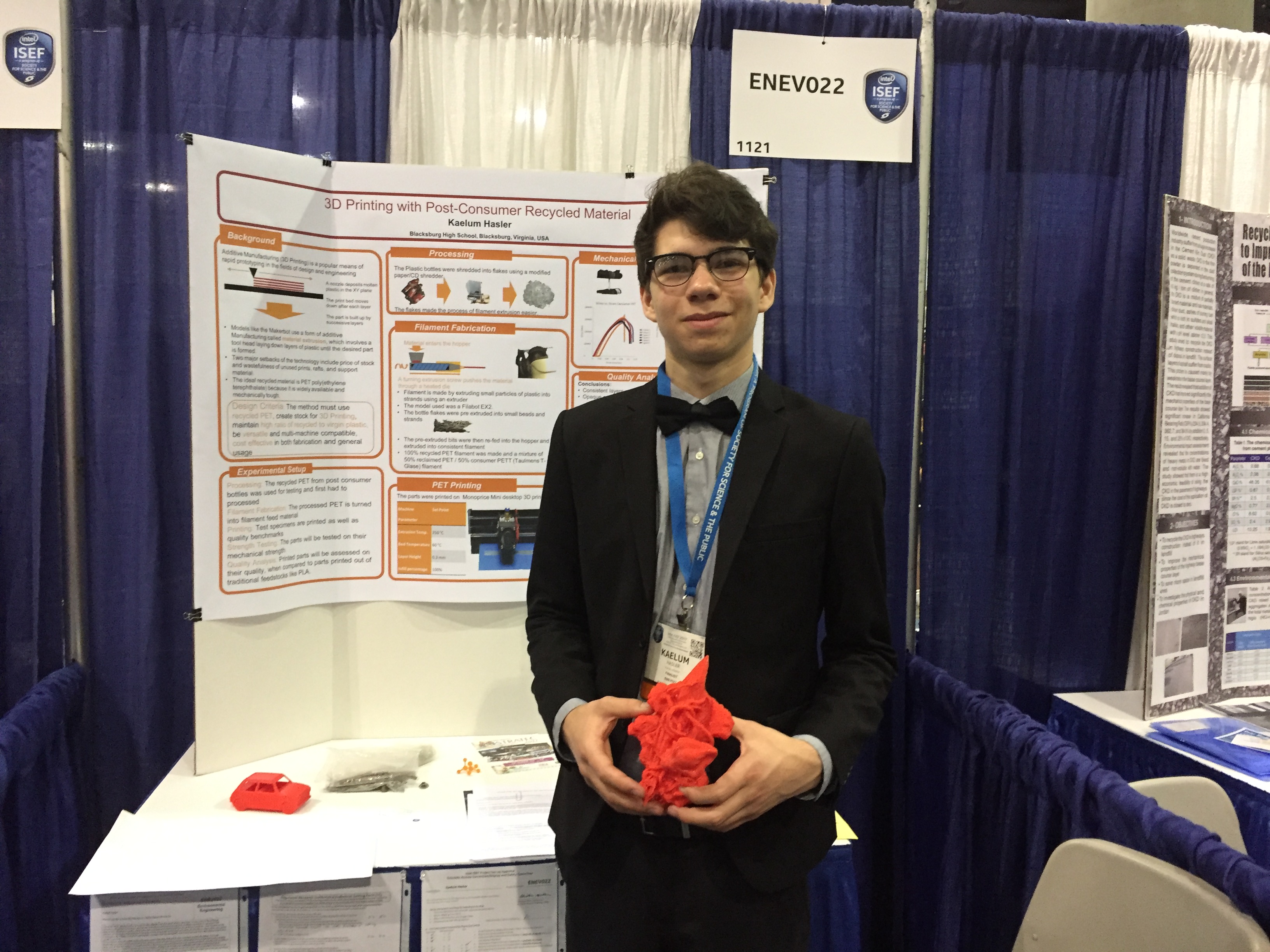 Kaelum Hasler, Blacksburg High School, presented "Post Consumer PET as Stock for Additive Manufacturing." Kaelum won a second place NASA award of $750 at ISEF.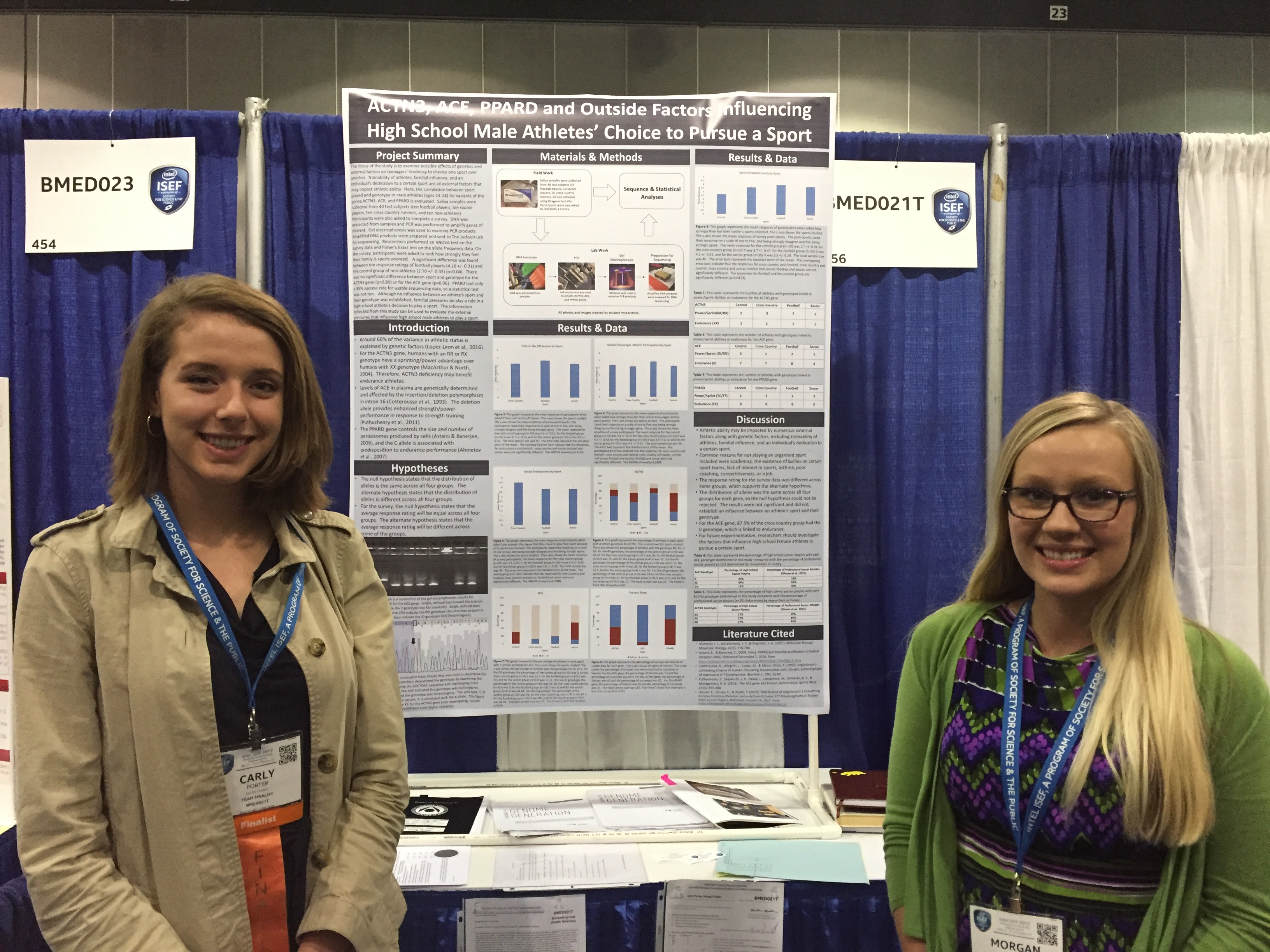 Carly Porter and Morgan Fisher, Southwest Virginia Governor's School, presented
"ACTN3, ACN, PPARD, and Outside Factors Influencing High School Male Athlete's Choice to Pursue a Sport."

The Blue Ridge Highlands Regional Science Fair has posted a press release.
ISEF has a wall of names with each student's name on it.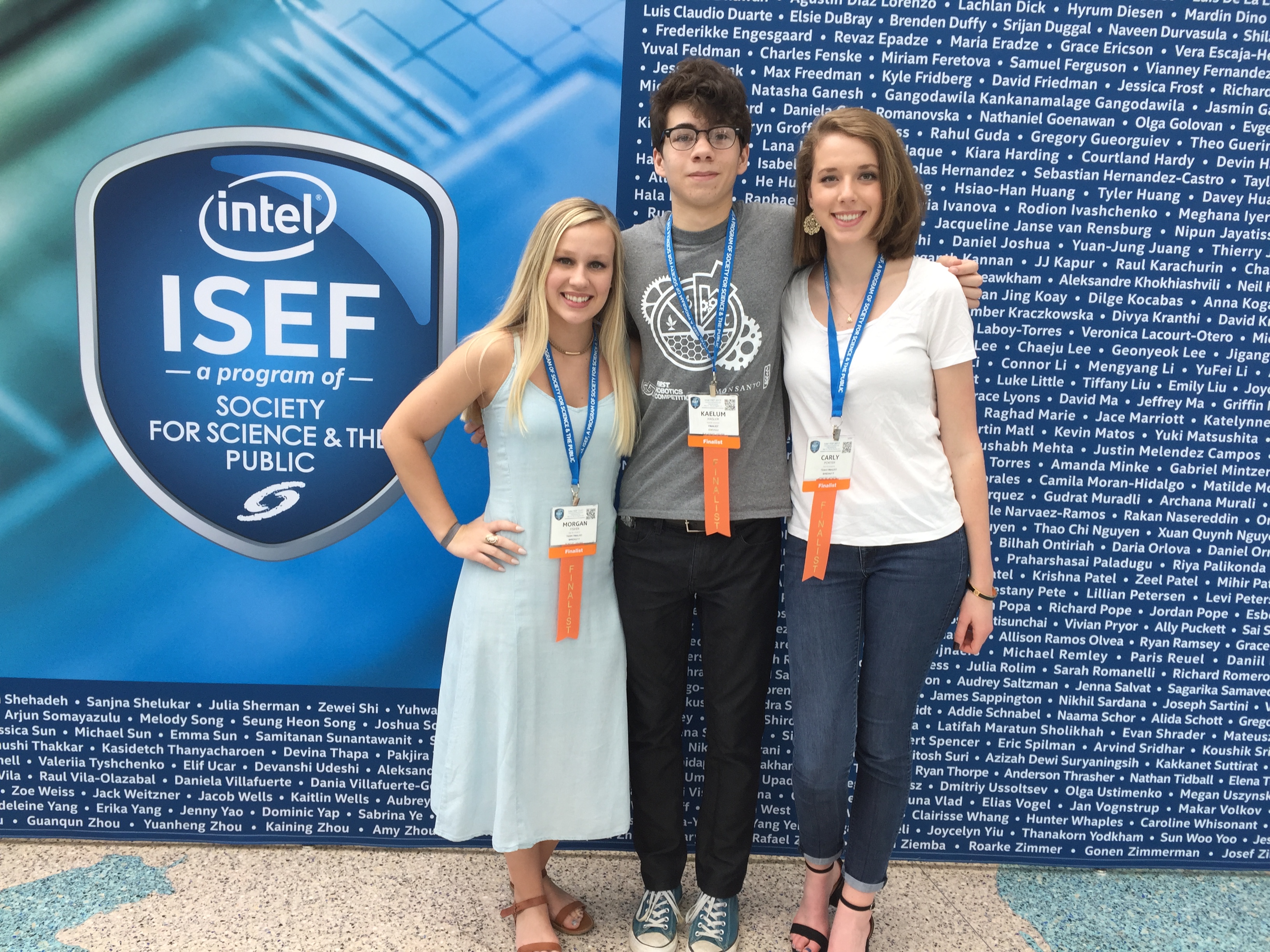 The ISEF category awards ceremony is posted at https://www.youtube.com/watch?v=kRY9qvFp-2o. Be a part of ISEF next year in Pittsburgh! Future locations are Phoenix (2019), Anaheim (2020), and Washington, DC (2021).
Congratulations to the winners at the Virginia State Science and Engineering fair!
1st place, Engineering: Materials and Bioengineering - Kaelum Hasler
3rd place, Microbiology, Joseph Carman
ASM Materials Education Foundation - Kaelum Hasler
U. S. Navy/Marine Corps - Kaelum Hasler
Listed below are winners of our fair:
Need help getting started on your project?
The following links can be useful.
Intel ISEF Student Handbook
Intel ISEF Projects Database
Science fairs have roots that go back to the 1940s, when they were used to encourage talented high school seniors to pursue a career in science or engineering and to expose the public to scientific work. Today, science fairs are still used to nurture an interest in the sciences, but have expanded to include younger students.
Through poster displays and oral presentations, young scientists present the results of their hard work in the fields of animal science, behavioral and social science, biochemistry and chemistry, cell and molecular biology, computer science, earth and planetary science, environmental management and science, engineering, mathematics, medicine and health, microbiology, physics and astronomy, and plant science. This stimulates an active interest in science and engineering in young students, provides an unparalleled experience in research and presentations, and exposes the public to the hard work these students are performing.
With the 26th Annual Blue Ridge Highlands Regional Science Fair, we are continuing a long-standing tradition of scientific exploration and promotion. Participants in this fair represent the counties of Bland, Buchanan, Carroll, Dickenson, Giles, Grayson, Lee, Montgomery, Pulaski, Russell, Scott, Smyth, Tazewell, Washington, Wise, Wythe and the cities of Bristol, Galax, and Norton. Students will compete in either the Junior (6th through 8th grades) or Senior (9th through 12th grades) Division.
First Place winners in each individual senior category will receive an invitation to participate in the Virginia State Science and Engineering Fair at Virginia Military Institute in March 2017.
Grand Award winners (the top two Senior Division projects) will receive an all-expense-paid trip to the International Science Fair in Los Angeles, California on May 14 - 19, 2017.
All projects must be submitted for approval prior to exhibition at the fair, with a registration form and abstract, no later than February 17, 2017.
**********************************************************************************
Science Fairs Require Money for Awards and Trips. You can support the Science Fair by a charitable donation or/and by placing an ad. See below for details.
Help Support the Blue Ridge Highlands Science Fair at Radford University
The Blue Ridge Highlands Science Fair needs continued financial support to be able to award prizes, provide food, and pay for trips for the students and their sponsors to the International Science Fair. You can help support the next and upcoming Science Fairs by making a donation by one of two ways.
(1) An online payment may be made through the Radford University Foundation. Gifts may be made directly to the Blue Ridge Highlands Science Fair by clicking here. When asked, "Please allocate my gift to:" select "Other" from the pulldown menu and type "Science Fair" into the space. Please notify Dr. Hermann if you make an online donation, so you can be thanked and recognized.
(2) Mail a check directly to Dr. Christine Hermann at Box 6949, Department of Chemistry, Radford University, Radford, VA 24142. The check must be made out to the "Radford University Foundation" with "Blue Ridge Highlands Regional Science Fair" in the memo line.
Donations to the Radford University Foundation are generally tax deductible, but each donor for the Science Fair should consult with a tax advisor to determine what is appropriate in each circumstance. Thank you for supporting the Blue Ridge Highlands Science Fair at Radford University.
Advertise your business in the Blue Ridge Highlands Science Fair Booklet
If you are interested in placing an ad, the Sponsorship form is available. Mail it in with payment and email your ad to Dr. Christine Hermann at chermann@radford.edu.